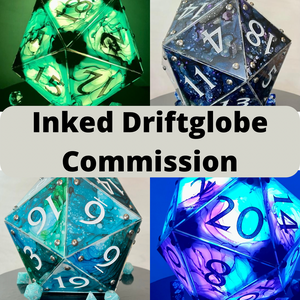 Works of Whimsy Studios
Inked D20 Driftglobe Lamp Commission
Regular price
$42.00
$0.00
Unit price
per
Please read the entire description!
Let me make a painted D20 Driftglobe Lamp just for you!!
Please make sure to enter a good email for you when you purchase this spot.  I'll be emailing quickly!  If it's been 24 hours and you have no email from me (don't forget to check your spam folder!), then please reach out!
This is a non-refundable commission spot for a custom, hand-painted D20 Driftglobe Lamp made from white and clear acrylic with alcohol ink painting.  Once completed, the lamp will be an additional $150 base price plus shipping, and a custom listing with your name will be created for this amount at that time.  Additional costs will be discussed for increased laser time for intricate engraved designs, or complicated design ideas. These will be discussed and approved before painting starts.  
The only map Driftglobe currently available is the Cartographer's D20 design by Deven Rue, and will add $60 to the cost of the lamp due to engraving and painting time. 
You can choose the colors and style used on the lamp, as well as the color that the numbers are painted.
When you purchase this commission, you will be given an estimated time for completion of the lamp, as well as start the discussion of what colors and styles you would like for your lamp.  
You will be sent updates and photos as the commission is being worked on.  
If you have not purchased your lamp within 2 weeks of the final product being listed, and we haven't made other arrangements, then you will forfeit your claim to the lamp and I will list it on the shop for the general public to purchase.
I maintain the right to cancel a commission at any time during the process, without refund of the commission fee, if I that a client is rude, aggressive, or otherwise difficult to work with.
---